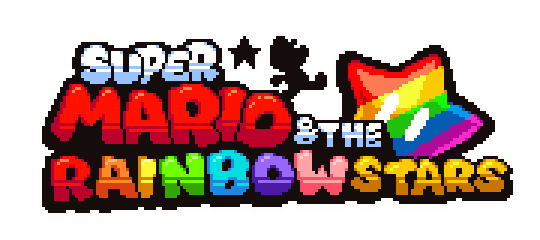 Demo Progress: 70%
Super Mario and the Rainbow Stars is a new project developed by me, aka the creator of sm2dux. It aims to bring the unique traits of the Paper Mario and Mario & Luigi series into a fun 2D platformer. Explore 7 different chapters, discover new partners, and stop Lord Dark Star! Features New moves, cutscenes, tons of powerups, a 3 hp life system, partner system, original songs and more!

Spoiler

The story of this project is about Mario and his new friends going on an adventure to gather the Rainbow Stars that were scattered throughout the many chapters that Mario and Co will discover. The Rainbow Stars were scattered because of a new foe called Lord Dark Star. This all happened in a mystical far away place called the Rainbow Ruins. Lord Dark Star is on a mission to collect all of the Rainbow Stars to get all the power to consume the world in darkness. Through out the journey, Mario discovers how useful his friends can be with their unique abilities and fun personalities! Who is Lord Dark Star exactly? What is he up to? Find out the rest yourself while playing!

Spoiler

Spoiler


https://youtu.be/9NkCphsb1m0

https://youtu.be/WPkRSdb_04Q

https://youtu.be/K_LNEFY1aq0

https://youtu.be/sBAmYsCE_nA

https://youtu.be/uJ1Kmy522bg

https://youtu.be/UfGdlCZ26X4

Spoiler

Level Design:


YoshiSuperstar
LGLMAKING


Original Graphics:


YoshiSuperstar
electro-kun
3color BombDX
Iccy
CaptainToadli
sum
Cosmic Blooper


Graphics:


Lx Xzit
Mit
Omega
Xilorə 25
Squishy Rex
Flagpole 1up
Supertailss


Original Music:


AndrewPixel


Music:


Nintendo
SEGA
HAL


Beta Testing:


Inferno
3color BombDX
Iccy
LGLMAKING
Davidik400
Suckerman7 GM
3lectronstar024


Original Scripts:


YoshiSuperstar
3color BombDX
UnderscoreFyreNova
LGLMAKING


Scripts:


Lx Xzit
HengShao233
Slash-18
Twisted Doctah
NESTED ERNEST


Story:


YoshiSuperstar
LGL
Inferno
(more to be added in the future, this is not everyone)
if you noticed gfx I used that I didn't credit someone for, please let me know. (Since it's hard to keep track of all the gfx I used that different people made.)

If you support this project, please put this in your signature!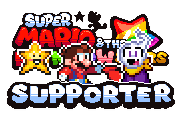 Code: Select all
[url=https://www.supermariobrosx.org/forums/viewtopic.php?f=90&t=25690][img]https://i.postimg.cc/fLsdVcZS/smatrs-support.png[/img][/url]