The Legend of Darkness is a SMBX-38A episode made by Hel studio, whose members are mostly from China.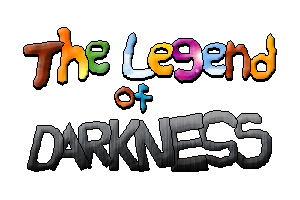 This project of this episode was originally launched by me in summer 2015, and this episode has only been finished the former 2 chapters before. Because I was busy after starting high school in summer 2017, and members in the studio also had their own affairs to deal with, the progress of this project was very slow. During this time, Slash-18 updated many stuffs in this episode.
When I began my university career, I finally could spend some time on this project. Because we're dissatisfied with the levels we made years ago, we decided that we will make levels of this episode from scratch. We're remaking levels in Chapter 1 at present and expect to release the Chapter 1 Demo within this year.
DEMO 1 PROGRESS: 60%
FEATURE
Spoiler

The Legend of Darkness is a SMBX-38A episode with a lot of unique features. In this episode, player will explore 8 different chapters, meet with various characters with different personalities, experience many new mechanisms, watch vivid and energetic cutscenes, and the most importantly... play interesting levels!
STORY
Spoiler

The Power of Darkness sealed long time ago has been broken. A mysterious man claiming 'Mr.Dark' obtained this power, seeming to intend to use this power for dominating the world. To stop his evil deeds, Mario and Luigi have to start on an adventure again. A legend has it that only Stars of Brightness can be used to save the world from falling into the darkness. On their way to collecting Stars of Brightness to save the world, the Mario Bros will experience various uncertainties, and some unexpected people may join in their party to go on the adventure with them together. How will their adventure go on, what's the fate of this world later, and what's deal with that mysterious 'Mr.Dark'? Play this episode to find the answer!
SCREENSHOTS
Spoiler
VIDEOS
Spoiler

Newest Teaser Trailer:






Teaser Trailer:






Opening Cutscene:






1-2 the Sewer Part Walkthrough Showcase:



CREDITS
Spoiler

Level Design:


HengShao
MarioXyy
Mr.Cutter
Onton
Slash-18
TheCreator520



World Map Design:


Marchtinal
TheCreator520



Story:


HengShao
Slash-18
TheCreator520



GFX:


ArnuroMinigon
AwesomeZack
Chad


Dark Bright


Doc Melonhead


electro_kun


FlameBoi
FPI


HengShao


h2643
Icegoom


Kaizo_Zhang_15


LangtonLion64
Lx Xzit


Mario84


Mr.Pink Teddy
Mudkip
NewWeegie
reghrhre
rockythechao
Sednaiur
Skikaternia


Slash-18


SliverDeoxys563
Squishy Rex
SuperSledgeBro
Thales


TheCreator520




Vob-omb


Xiaodou

*The names in italics are members of the development team of this project



Script:


Erwill
FyreNova
Green


HengShao


Lx Xzit


Mr.Cutter


Nested Ernest


Slash-18




TheCreator520


Yvahnek

*The names in italics are members of the development team of this project



(Since it can be difficult to keep recording the different creators of GFX and scripts all the time, there may be some creators' name omitted. If you find there're GFX and scripts you made and your name doesn't appear in the credits, please tell me in order to add your name into the credits. Thanks for you understanding!)



DISCORD
Spoiler

If you're interested in this project, join this Discord server and keep up the newest progress of the project on time!
https://discord.gg/DwCgAKa7HQ
If you want to support this project, you can put this in your signature!

Code: Select all
[url=https://www.supermariobrosx.org/forums/viewtopic.php?f=90&t=28260][img]https://hel.smbx.world/main/TLoD%20Signature.png[/img][/url]